Posted on Friday, September 23, 2011 at 8:30 AM by Richard Schitts
Some students at MIT came up with a cool idea for lighting Philippine slums. I love their idea - it's so simple it's genius; it uses no energy and recycles old pop bottles. There is one downside - it only works in the day. But if you live in a hut with no windows near the equator this might not be too much of a downside.
MIT's Slum Lighting Solution: Cut a hole in your roof, seal a pop bottle with water and a little bleach (to kill algae) into the hole. Voila! You have a light. The cool thing is that because of the way a pop bottle refracts light it captures more light than just a hole in the roof - the equivalent of a 50-55 watt light bulb.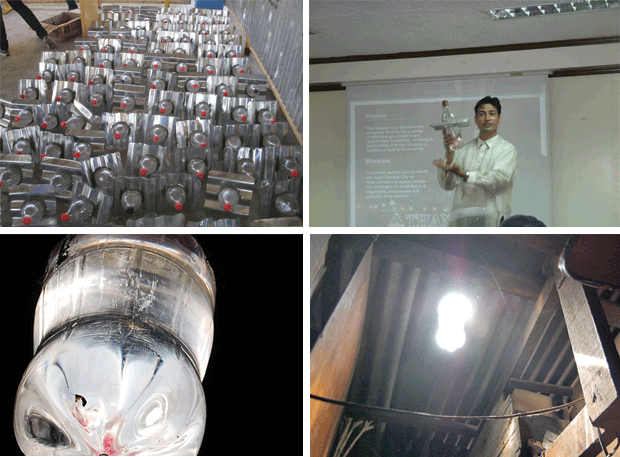 Simple, elegant, beautiful, genius. A picture is worth a thousand words. It made me think - why did it take MIT engineers to come up with this solution? Maybe they are trained to think out of the box - maybe they see past a problem and towards a solution. Environmentalists take note.
Now if only we could genetically engineer algae to be bioluminescent for a couple of hours after dark "slum landlords" would be all set!
Further reading: http://isanglitrongliwanag.org/
Edited on: Friday, September 23, 2011 8:54 AM
Posted in Global Warming (RSS), Other Environmental Discussion (RSS)